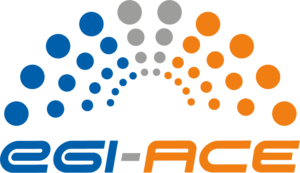 EGI - ACE projekt
EGI Advanced Computing for EOSC
Az EGI-ACE (EGI Advanced Computing for EOSC) projekt célja, hogy az EOSC-hub elosztott számítástechnikai integrációjára építve létrehozza az EOSC Compute Platform szolgáltatást és hozzájáruljon az EOSC Data Commons megvalósításához a különböző európai Cloud létesítmények, PaaS-szolgáltatások és adatterek egyesítésével.
Participants
AKADEMIA GORNICZO-HUTNICZA IM. STANISLAWA STASZICA W KRAKOWIE,  Poland

BOGOLYUBOV INSTITUTE FOR THEORETICAL PHYSICS OF THE NATIONAL ACADEMY OF SCIENCES OF UKRAINE,  Ukraine

EUROPEAN ORGANIZATION FOR NUCLEAR RESEARCH,  Switzerland

CESNET ZAJMOVE SDRUZENI PRAVNICKYCH OSOB, Czechia

CONSORZIO INTERUNIVERSITARIO RISONANZE MAGNETICHE DI METALLO PROTEINE,  Italy

FONDAZIONE CENTRO EURO-MEDITERRANEOSUI CAMBIAMENTI CLIMATICI,  Italy

CENTRE NATIONAL DE LA RECHERCHE SCIENTIFIQUE CNRS,  France

AGENCIA ESTATAL CONSEJO SUPERIOR DE INVESTIGACIONES CIENTIFICAS,  Spain

STIFTUNG DEUTSCHES ELEKTRONEN-SYNCHROTRON DESY,  Germany

EISCAT SCIENTIFIC ASSOCIATION,  Sweden

EUROPEAN MULTIDISCIPLINARY SEAFLOORAND WATER COLUMN OBSERVATORY - EUROPEAN RESEARCH INFRASTRUCTURE CONSORTIUM (EMSO ERIC),  Italy

ENHANCER,  Switzerland

NATIONAL INFRASTRUCTURES FOR RESEARCH AND TECHNOLOGY,  Greece

INSTITUTE OF ACCELERATING SYSTEMS AND APPLICATIONS,  Greece

INSTITUTUL NATIONAL DE CERCETARE-DEZVOLTARE PENTRU FIZICA SI INGINERIE NUCLEARA-HORIA HULUBEI,  Romania

INSTITUTE OF INFORMATION AND COMMUNICATION TECHNOLOGIES,  Bulgaria

USTAV INFORMATIKY, SLOVENSKA AKADEMIA VIED, Slovakia

INSTITUT JOZEF STEFAN,  Slovenia

ASSOCIACAO INCD,  Portugal

ISTITUTO NAZIONALE DI FISICA NUCLEARE,  Italy

LABORATORIO DE INSTRUMENTACAO E FISICA EXPERIMENTAL DE PARTICULAS LIP,  Portugal

LABORATORIO NACIONAL DE ENGENHARIA CIVIL,  Portugal

MARIENE INFORMATIE SERVICE MARIS BV,  Netherlands

STICHTING NEDERLANDSE WETENSCHAPPELIJK ONDERZOEK INSTITUTEN,  Netherlands

SCIENSANO,  Belgium

SVEUCILISTE U ZAGREBU SVEUCILISNI RACUNSKI CENTAR,  Croatia

SURF BV,  Netherlands

SZAMITASTECHNIKAI ES AUTOMATIZALASI KUTATOINTEZET,  Hungary

TURKIYE BILIMSEL VE TEKNOLOJIK ARASTIRMA KURUMU,  Turkey

TECHNISCHE UNIVERSITAET WIEN,  Austria

Ss. CYRIL AND METHODIUS UNIVERSITY IN SKOPJE,  North Macedonia

UNITED KINGDOM RESEARCH AND INNOVATION,  United Kingdom
Department
1111 Budapest, Lágymányosi u. 11.
Manager
Email
kacsuk.peter@sztaki.hun-ren.hu