Guide to Budapest
Budapest
This beautiful historical capital is situated on the banks of the Danube and is called the pearl of the Danube. The city actually consists of three cities: Óbuda with Celtic and Roman ruins, Buda in hills on the western bank, famous for its historic Castle Hill and beautiful residential area, and bustling Pest with its shopping, government and commercial districts on the flat plain of the east bank. The architectural beauty with its monuments from neo-classic through baroque to eclectic art nouveau is prevalent in the city. Budapest is also world famous for its artistic abundance of concerts, operas, recitals, galas and exhibitions.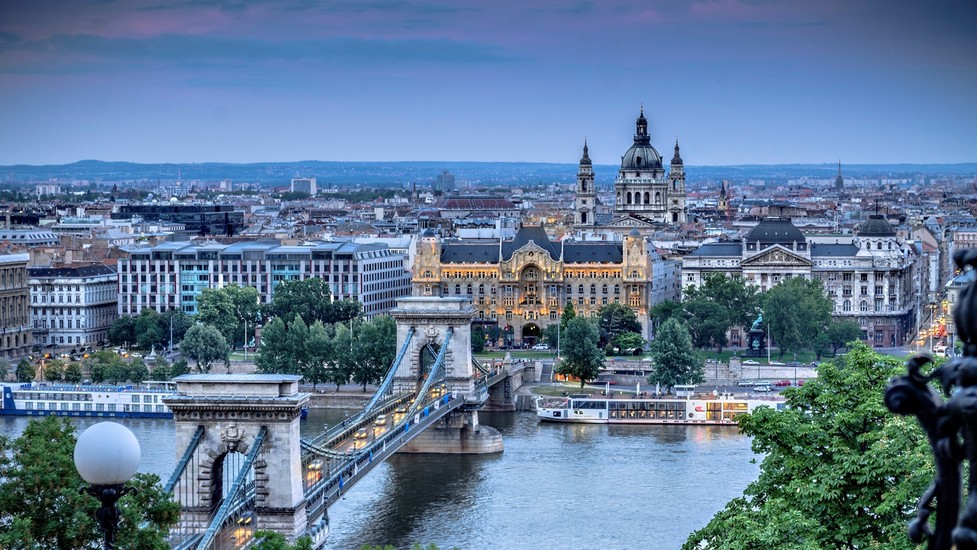 Hungarian Names
Official word order of names: surnames come first, first names second, e.g. Kovács Emilia.
Hungarian Addresses
Hungarian addresses look like this: H-1111 Budapest, XI. Lágymányosi u. 11., III./312.

The postal code and town/city come first, district number is followed by the street name and building number, then floor (Roman numerals) and apartment/room number.
Arrival/departure from/to Ferihegy Airport
The Airport minibus will take you anywhere in Budapest. Information desk (operator) for mini-bus service is found in the center of the arrival lobby. The bus fits about 6 persons with luggage and picks up and drops them off one by one at their doors. Add at least 1 hour to your airport arrival time (depending on the traffic). This door-to-door Airport Minibus Service is reasonably priced and quite fast. The minibus service is located outside of customs area. Travellers will purchase a voucher and proceed to the waiting area. The waiting time is generally 10-20 minutes. Those who schedule round-trip transportation must call to re-confirm their return trip at least 24 hours in advance of their flight. For a ride to the airport you may call (+36 1) 06-80-296-855 or (+36 1) 296-8555 from the city.
Take bus #93 or bus #200 to Metro terminal Kőbánya-Kispest. The buses stop in front of the arrival lobby of both airport terminals. From metro station Kőbánya-Kispest, M3 (blue metro line) takes you to the direction of the city center.

To reach MTA SZTAKI take off at Metro station Ferenc körút and change to tram #6 (direction: Buda), take off at the last tram stop Móricz Zsigmond krt. From there MTA SZTAKI is in walking distance.

Airport Taxis

The official company is the new Főtaxi Service, details (fares, zones, etc.) are available here.

Getting to SZTAKI takes 30 minutes in normal traffic situations.
For more information visit the web site of Budapest Airport.
Currency
The unit of currency is the Hungarian Forint (HUF), denoted as Ft by the Hungarians. International credit cards (AmEx, EC/MC, Visa) are accepted at most hotels, restaurants and shops. ATMs are available at the Airport and in many locations throughout the city. For current exchange rates see The Currency Converter.
Budapest Taxi
(+36 1) 777-7777; (+36 20) 777-7777; (+36 30) 777-7777; (+36 70) 777-7777
Public Transportation
Public transportation is extensive, reliable and cheap.
Fares cannot be paid on board and there are fines for travelling without a validated ticket. Tickets are valid for one ride only. A new ticket must be used every time you change lines. Tickets can be cancelled in meters (red punch slots) on board (tram, bus) or at (metro) station entrances (orange boxes). Tickets can be purchased at metro stations, hotels, newsstands and tobacco shops.
Instead of single tickets you may consider buying a carnet of 10 tickets or a pass (for 1/7/14 days or for a month), or a Budapest card. These are available at the metro stations or terminals of public transport.
Metro lines run from 4:30am to 11:30pm. Most bus and tram lines operate until 11pm, except for certain key lines that run all night (sign: letter "E" is attached to the line number e.g. bus number 182E)
Accommodation
Hotels situated near MTA SZTAKI:
A four-star hotel in 10 minutes walking distance from MTA SZTAKI. Swimming pool, sauna, gym, internet access serve the convenience of visitors.
Address: H-1113 Budapest, XI. Tas vezér u. 7. Hungary; Tel.: +36 1 372-2000 Fax: +36 1 365-8007.
Hotel Ventura ***
Hotel Ventura provides less expensive but adequate accommodation 3 kms from SZTAKI (direct tram connection) in the southern part of Budapest.
Address: H-1119 Budapest, Fehervári ut 179. Hungary; Tel.: +361 208-1232; Fax: +36 1 208-1241
Emergencies
Ambulance, Police and Fire Dept. - green numbers
| | |
| --- | --- |
| Ambulance | 104 |
| Police | 107 |
| Fire Dept. | 105 |
Other guides